FINE TUNING WITH THE IDEAL-SCOPE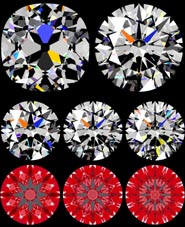 Figure 9.The old cut on the top left has big bold fire, but is not as brilliant overall as the ideal cut on the right.
The 3 ideal cuts have their lower girdle or half lengths increased from left to right.
Stones with shorter LG's have more fire but less brightness.
Plan the best lower girdle length for different table sizes with Ideal-Scope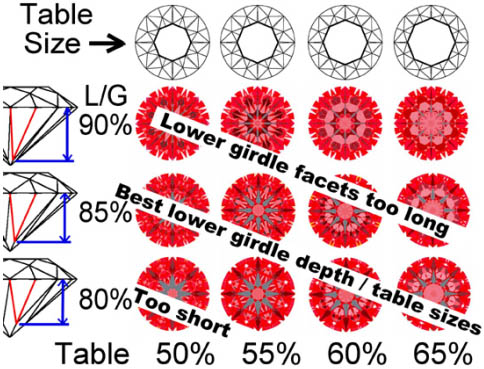 Figure 10.Fine tuning star width with lower girdle length & table size results in improved performance, with very little weight change. The green line represents the best range. The red line indicates stars that are too thin or too thick.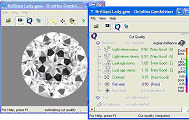 Free Gem Reader software for customers to view 3D diamond models (do one with ideal-scope view)
After polishing, OctoNus and Sarin scanners can build a 3D model which can be converted to realistic and Ideal-Scope images with DiamCalc.These image files are quite small and can be web hosted or emailed and viewed by customers or consumers using a free GemReader download program.Available From (Free Trial Version)
www.gemology.ru/octonus/english/gemreader/
This shows Ideal-Scope, DiamCalc, light return etc. With it customers can make movies to compare various diamonds.